Learn how to optimize your Mindmarker reinforcement program by turning data into Actionable Intelligence.
Before you can determine what to measure, review your training goals and define your reinforcement objectives.
Translate Knowledge into Intelligence
Reinforcement data must be translated into Actionable Intelligence before you can improve your business.
Mindmarker will provide you with the data, but it is useless if you don't turn your post-training data into Actionable Intelligence.

Here is the process:
During your reinforcement program,

data

is being collected from Mindmarkers. The first step is to organize this data.


Once organized, the data is converted to

information

in the form of customized reports.


Analyze these reports to convert it into

knowledge.


Knowledge then becomes Actionable

I

ntelligence used to predict future outcomes.


Based on this intelligence you can identify potential

decisions.


Make the decision and take

action.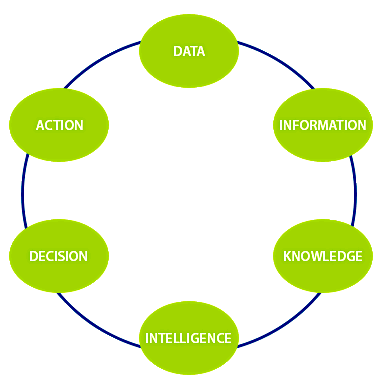 The cycle continues as you then measure the results of these actions. Organize the new data and convert it into Actionable Intelligence.

Interested in learning more about the key principles behind training reinforcement? Download our eBook, How to Design, Implement, and Improve Training Reinforcement.