When planning a reinforcement program, you've got to understand common misconceptions and plan your training accordingly.
1. Reinforcement is NOT reminding
Reinforcement is very different than a reminder service. While reinforcement should be built on your existing content, it should not simply recycle content you have already created.
Instead, focus on continuing your exploration of a topic by contextualizing your content.
2. Reinforcement is NOT expensive
Reinforcement programs do not need to be expensive. You don't need to hire a costly trainer or have staff take time off work. Reinforcement lessons can be completed on a personal device, and slotted into short increments between tasks.
3. Reinforcement programs are NOT time-consuming to create
You have already spent a lot of time and money creating your existing training materials. So, if you want to reinforce a few basic objectives, it takes just one week to curate 60-75 messages.
4. Reinforcement is NOT gaming
Reinforcement gamification uses leaderboards, scoring, and interactivity to entice your learners to work through the material effectively. When your reinforcement lessons motivate competition, learners are more likely to complete the materials.
While knowledge is a part of reinforcement, reinforcement programs focus on knowledge application, not retention. Structure your program to close the 5 reinforcement gaps.
6. Reinforcement is NOT one size fits all
Mindmarker Training Reinforcement programs incorporate adaptive learning paths that adapt to the needs of each learner. Data shows that your learners are more likely to remember the training materials and apply their knowledge when they can work through the material at their own pace.
7. Reinforcement NOT just a platform to push messages
There are many LMS systems that can push messages, but that's not all reinforcement is about. To deliver impactful reinforcement, the type, and length of information is curated to create the greatest impact.
8. Reinforcement is NOT Microlearning
Microlearning is a part of reinforcement, but reinforcement is more than microlearning. Reinforcement constitutes application, evaluation, and practice.

Microlearning can help learners gain completely new skills. Use microlearning in your reinforcement program, but understand that the most successful programs will incorporate much more.
9. Reinforcement is Only for Mobile
42% of our participants use email to receive their reinforcement messages. So, if learners have both their mobile application and an email notification systems activated, your reinforcement program will reach every time.
10. Reinforcement is NOT an Assessment
While assessments are easy ways to collect data, Avoid testing learners on every little thing. This will demoralize learners. Instead, only give constructive assessments that provide insights into how learners can improve their performance on the job.
So What IS Training Reinforcement?
Now that you know what Training Reinforcement isn't, discover the science behind reinforcement. Learn more about the Mindmarker Methodology in our eBook, The Science Behind Mindmarker.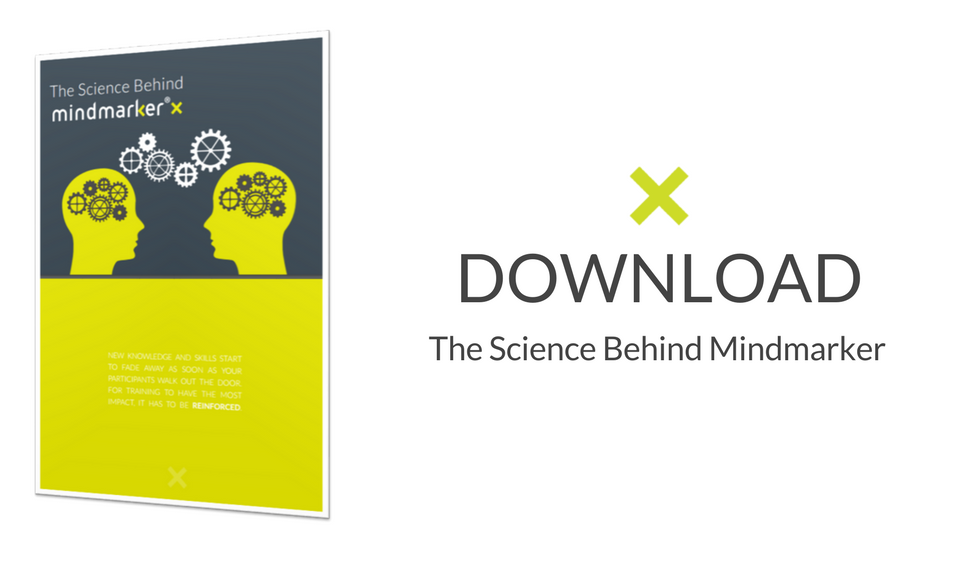 Download eBook