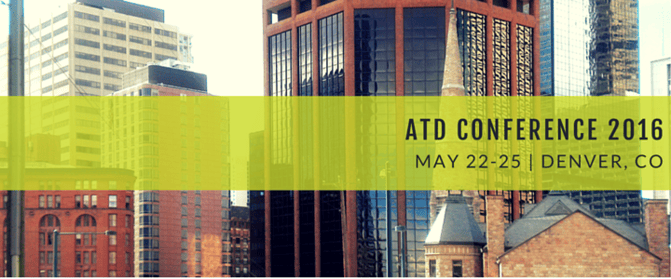 The 2016 ATD International Conference & Expo is just around the corner, and every year it feels like there is so much more to see and do.
With over 400 speakers and exhibitors, in addition to more than 300 sessions, this expo has a lot to offer every attendee, from talent development and HR professionals to instructional designers and corporate trainers.
Of course, there are literally hundreds of exciting things to look forward to at this year's conference, but we thought it would be fun -- and potentially helpful for your schedule planning -- to highlight just a few of the many things we are looking forward to at this year's conference.
1. All of the Learning Opportunities
One of the best parts about the ATD expo is the fact that it attracts the best and brightest, both as speakers and as attendees. This four-day conference is rich with educational content and ideas that every organization can take and put into action.
The content tracks that attendees have the chance to learn about at this year's conference, include:
Career Development
Global Human Resource Development
Human Capital
Instructional Design
Leadership Development
Learning Measurement and Analytics
Learning Technologies
Management
Training Delivery
Science of Learning
2. Simon Sinek
Simon is a trained ethnographer and best-selling author of "Start with Why: How Great Leaders Inspire Everyone to Take Action," as well as "Leaders Eat Last: Why Some Teams Pull Together and Others Don't."
He is fascinated with the study of leadership and inspiration, and is devoted to sharing what he has learned through his studies and why it is so important for success.
3. Brené Brown
A research professor at the University of Houston Graduate College of Social Work, Brené Brown has written three #1 New York Times bestsellers and is also the founder and CEO of The Daring Way and COURAGEworks.
She has been an inspiration for people worldwide for her insights on the topic of vulnerability and its impact on personal success.
4. 31 Sessions on Instructional Design
It's not often that you find a conference with 31 sessions devoted to instructional design tips and best practices.
With topics on everything from beating the ebbinghaus curve to how to activate informal learning at work, every session in this track has actionable insight for more effectively developing, measuring and executing instructional design.
Of course, one very important aspect of instructional design is the long-term impact on behavior change so be sure to check out Anthonie Wurth's presentation: "How to Use Reinforcement to Increase Your Training Impact."
5. Anthonie Wurth
Mindmarker founder and former Olympic Athlete, Anthonie Wurth, is one speaker you definitely don't want to miss. His engaging presentation offers expert tips and actionable insight on "How to Use Reinforcement to Increase Your Training Impact."
With his background in business and Olympic training, his unique expertise and approach to training reinforcement drives results for organizations all over the world.
Plus, his unique attire is guaranteed to surprise and delight every member of the audience.
6. The Exhibitor Floor
Considering that there are more than 400 exhibitors at this expo, it's safe to say this is going to be a happening spot before, during and after the show.
As we all know, the learning industry is rapidly changing with new technologies, methodologies and trends popping up every day, which means that attendees can expect to see exciting, new innovations around every corner.
As you stroll around the floor checking out the exhibits, we encourage you to come by the Mindmarker booth and say hello!